Toolroom – Get ready to dive back into the sound of Ibiza 2022 with Toolroom's latest collection of House cuts. Bringing together the freshest tracks from some of the scene's biggest artists.
Curated by the label and stacked with 50 certified bangers including music from KC Lights, Mark Knight, Meg Ward, Danny Howard, Endor, ESSEL, Ango Tamarin, Hannah Wants, Flashmob, Friend Within & many more. 4 exclusive debuts from Tom Enzy & Rion S, NightFunk, Fabich and newcomer Kapowski, complete the collection.
Toolroom Ibiza 2022 Vol. 2 is another essential album, transporting you to the sandy shores of the white isle this summer.
Toolroom Records is known internationally as one of the most innovative major brands in dance music. After 15 years in the music industry, we are known for our passion for quality House music, and our close connection with the #ToolroomFamily – our international community of fans. Over the years we've signed and even discovered some legendary artists; we've led the way in an ever-changing industry, developing artists and even evolving ourselves – and this is just the beginning.

Toolroom Records began in 2003 when emerging DJ/producer Mark Knight and brother Stuart Knight started the label. Quickly developing a fan base of professional and aspiring DJs, the label became synonymous with credible House and Tech House.
'Our mantra from the beginning was a simple one' says Mark. 'We wanted to be a record label run by DJs, for DJs. The kind of label that when you saw the artwork behind the counter of the record shop, you'd buy on sight.'
Rising in tandem with the career of label figurehead Mark, Toolroom rapidly grew into an internationally known brand through some defining club records – most notably Mark Knight's remixes of 'Man With The Red Face' and 'You've Got The Love', among a host of original material from Mark and other heavyweight dance artists. Toolroom has also diversified beyond a traditional record label model. We have successfully expanded into events, with Toolroom residencies and festival appearances all over the world.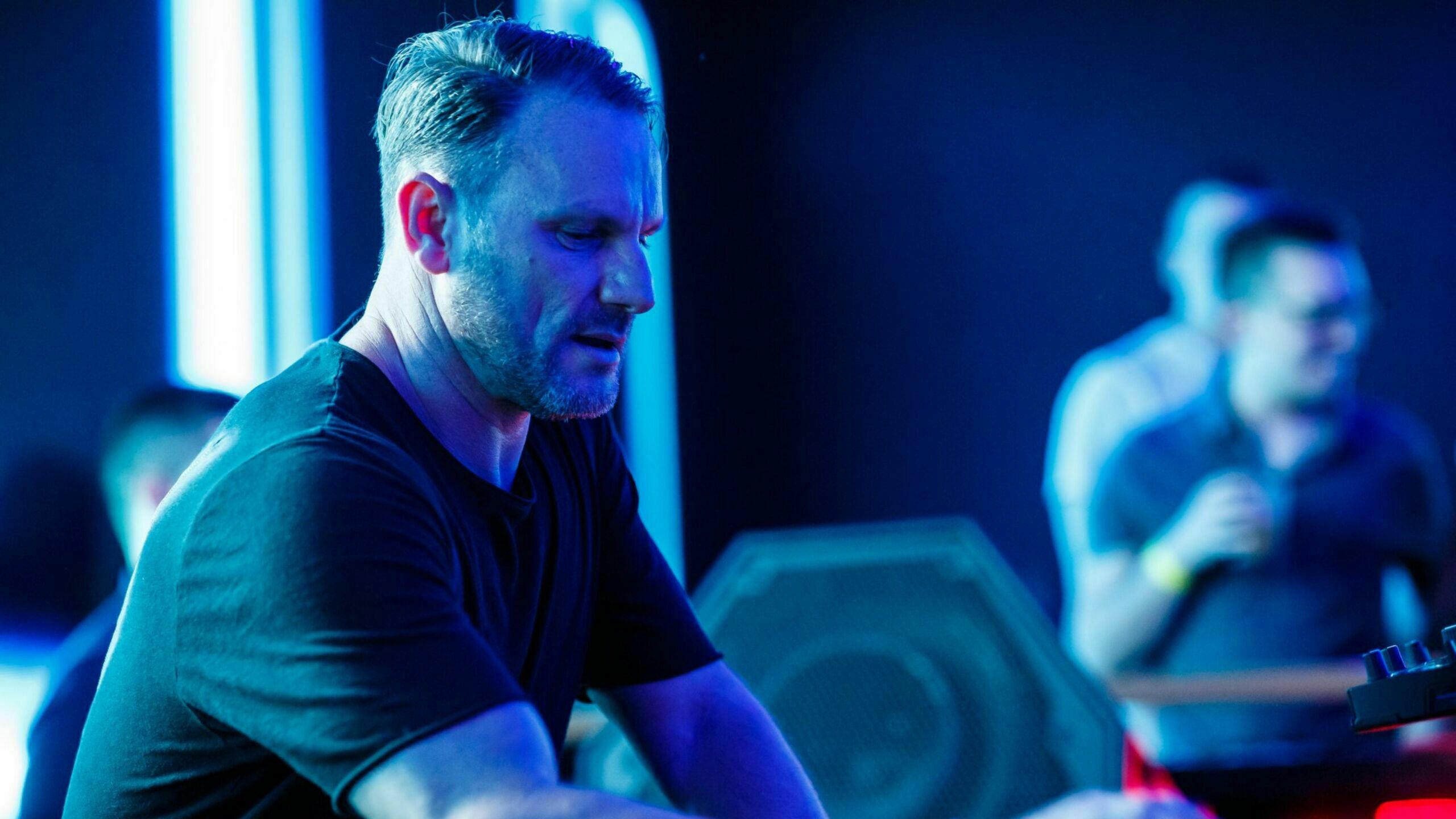 Moving towards other media platforms, Toolroom Radio, hosted by Mark Knight, is an overwhelming success with over 16 million listens per week, and Toolroom Academy – the educational arm of the brand – offering a range of innovative production and DJ courses to the next generation of electronic music artists.
'It's very a much a family thing' says Mark. 'When we talk about the Toolroom Family', that's not just a marketing slogan. We're normal, level-headed people, but we've always dreamed big'. With a strong musical vision and a tight artist roster, this is still the start of a journey for Toolroom – and we want to share it with you.
Toolroom Ibiza Vol. 2 2022 – Tracklist
1. KC Lights (feat. Leo Stannard) – Daydreamer [Toolroom]
2. Mark Knight & Gene Farris – I Can't Go For That [Toolroom]
3. Danny Howard & CHANEY – This Beat [Nothing Else Matters]
4. Flashmob – Discombination [Toolroom]
5. Endor – Heavyweight [Kaluki Musik]
6. Ango Tamarin – Can You Bang [Toolroom]
7. Carly Wilford – Sky High [Love & Other]
8. Tom Enzy & Rion S – Bang Bang [Toolroom]
9. Friend Within – Monkey Bars [Toolroom]
10. Hannah Wants (feat. ARA) – So High (Leonardo Gonnelli Remix) [Etiquette]
11. GW Harrison – Feels Good [Toolroom]
12. Piem – Day & Night (Meg Ward Remix) [Nothing Else Matters]
13. Santé – Mistakes [ABODE Records]
14. Fabich – La Fiesta [Toolroom]
15. ESSEL – Forgive Me [Love & Other]
16. RETNA vs Mark Knight – What I Need [Toolroom]
17. NightFunk – Another Chance [Toolroom]
18. Prok & Fitch – Salmodia [Kaluki Musik]
19. Saison – Never Ever [Toolroom Trax]
20. Muzzaik – Why Should I [Toolroom]
21. Maxinne & DJ Rae – How Many Times [Toolroom]
22. Ellis Moss & Jaded – Babylon [Toolroom Trax]
23. Davide Squillace & Matteo Spedicati – Purple Eyes [Saved Records]
24. Javi Bora, Richard Ulh – Get Down To Work [Nothing Else Matters]
25. Kapowski (feat. Émilie Rachel) – Control [Toolroom]
26. Crusy – Karma [Toolroom Trax]
27. Siege & Alex Preston – Save Me [Toolroom Trax]
28. James Hurr – Tell Me [Toolroom Trax]
29. Paige, Nihil Young & Beacon Bloom – Fading [Zerothree]
30. Twolate – Que Lo Que [Toolroom Trax]
31. Worthy – Occupy My Mind [Strangelove]
32. Simon Kidzoo – Wanna Play [Saved Records]
33. Will Taylor (UK) – Don't Rush [Saved Records]
34. Malóne & Shyam P – Misunderstood [Saved Records]
35. AZETE – Born Bad [Saved Records]
36. Mikaela – Stronger [Love & Other]
37. ELDON (feat. POPPI) – Solina's Vibe [Nothing Else Matters]
38. Blvckr – Balafon [Toolroom Trax]
39. Sinner & James – What You Waiting For? [Toolroom Trax]
40. Jay Vegas – High (feat. Ron Carroll) – High (LOthief Remix) [Toolroom Trax]
41. Denton (feat. Senhaji) – Salvation [Nothing Else Matters]
42. Daniel Orpi – Don't Lie [Kaluki Musik]
43. Eskuche – Disorder [Etiquette]
44. Capa (feat. Luke Coulson) – Let Me Out [Zerothree]
45. Ben Delay – Belter [Toolroom Trax]
46. Bluey – Satisfaction [ABODE Records]
47. LEFTI – All 4 U [Strangelove]
48. Tomi&Kesh, Cosmin Horatiu – Been A While [Kaluki Musik]
49. HowTru – Anywhere [Love & Other]
50. Tony Cortez – Aqui [Toolroom Trax]
51. Toolroom Ibiza 2022 – Vol. 2 (House Mix)
52. Toolroom Ibiza 2022 – Vol. 2 (Tech House Mix)
Exclusives
1. Fabich – La Fiesta [Toolroom]
2. Kapowski (feat. Émilie Rachel) – Control [Toolroom]
3. Nightfunk – Another Chance [Toolroom]
4. Tom Enzy & Rion S – Bang Bang [Toolroom]
Soundrive Music continues to go from strength to strength as the most in-depth and global EDM source for everything electronic dance music related. With an audience in over 125 countries, we are fast becoming a valued and trusted source for electronic dance music news, reviews, interviews and features for DJs, Artists and Labels alike.
'Ibiza Vol. 2' is out now!
Listen on Spotify
Connect with Toolroom