Nicky Romero Teams Up With Famed Norwegian Pop Duo Nico & Vinz For Soulful New Dance-Pop Single "Forever" and Announces His First-Ever Open-to-Close Solo Show "Nightvision"
True to form, Nicky Romero has some massive news for his fans this month. Not only does the Protocol Recordings mogul have a brand new single out, but he's also preparing for one of the most important performances of his career. On the release front, Nicky teams up with Norwegian pop duo Nico & Vinz for their release "Forever," a soulful gem that bridges the gap between electronic music and pop sounds – something we have already witnessed before on the occasion of his previous releases like "I Hope That It Hurts" with Norma Jean Martine, "Why Do I Call," and "Nights With You."
Opening with emotive vocals on top of a goosebump-inducing choir harmony, "Forever" floats on organic melodies that build into a gently undulating bassline, making for a harmonious and uplifting song that will live rent-free in your head. The track was premiered during Nicky Romero's "10 Years Of Protocol" anniversary showcase at Amsterdam Dance Event in 2022 with Nico & Vinz live on stage and also performed live two more times just recently at "Don't Let Daddy Know" festival and on Dutch national TV.

Nico & Vinz are known for their chart-topping debut single "Am I Wrong," which amassed over 800M streams on Spotify alone, while Nicky recently released his single "Turn Off the Lights" to begin 2023.
On top of his new single, Nicky has also just announced his first-ever solo show – "Nightvision," which will take place at the 6000-capacity Amsterdam venue AFAS Live (formerly known as Heineken Music Hall) on December 2nd this year. The versatile artist's illustrious career will be showcased during an epic open-to-close set, which will take attendees on a true sonic journey spanning from his early anthems to his recent hits and showcase sounds from some of his best sets he played across the globe over the span of recent years, like Ultra Music Festival in Miami, Peru, Korea, Japan, Brazil, Taiwan, Tomorrowland, EDC Mexico, or Amsterdam Music Festival, to name only a few.
In classic fashion, Nicky will also be bringing out some very special guests throughout the night, and with so many all-star collaborations under his belt, we can only imagine who they might be! Mark your calendars and keep an eye out for more news about Nicky Romero's "Nightvision" solo show coming soon. Pre-register here and be the first to know when tickets are available.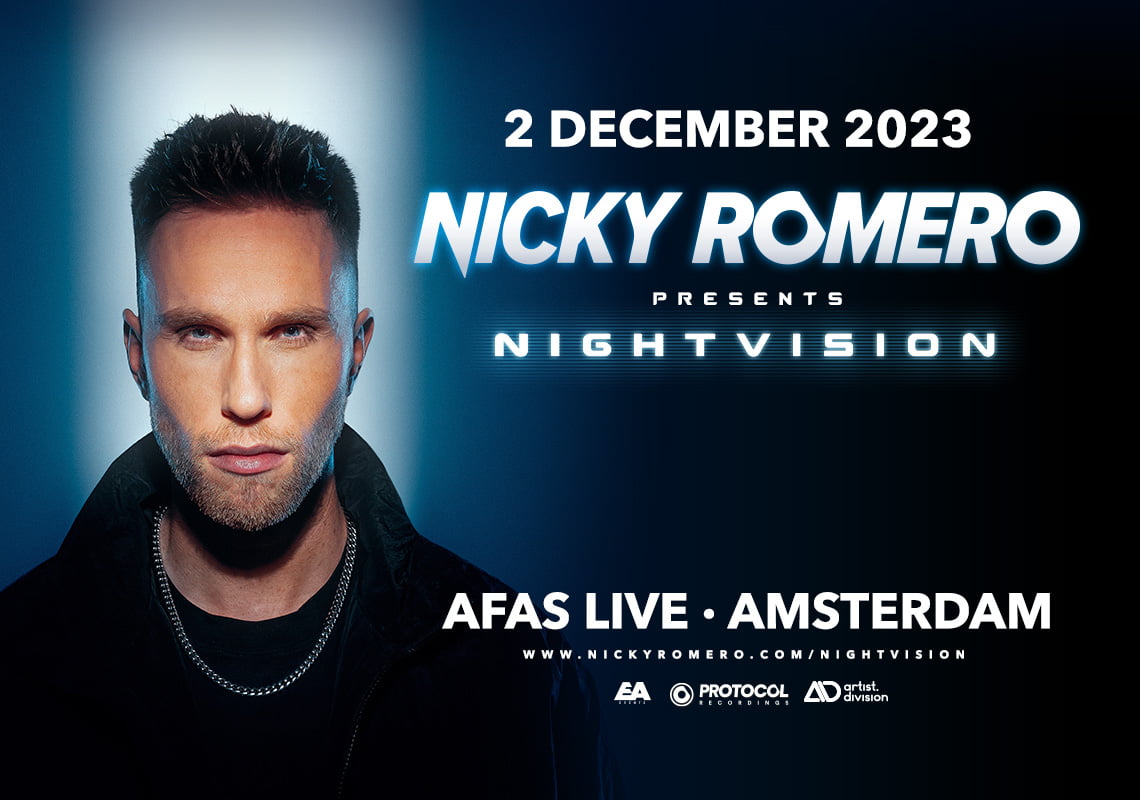 About Nicky Romero
After taking the world by storm with early hits such as "Legacy" with Krewella and the #1 single "I Could Be The One" with Avicii, Nicky Romero quickly proved that his talent is ever-evolving and here to stay. After launching his Protocol Recordings imprint in 2012, the renowned performer, producer, and label head continued his personal successes with a string of high-profile releases, ranging from collaborations with Armin van Buuren, David Guetta, Dimitri Vegas & Like Mike, W&W, Timmy Trumpet and Steve Aoki to remixes for the likes of Robin Schulz, Kygo, Rita Ora, Steve Aoki, Martin Garrix, Jess Glynne and more.
While showcasing his label's roster via his weekly Protocol Radio show, Nicky Romero continues to innovate and evolve, and with his annual "Nicky Romero & Friends" ADE showcase and the launch of Monocule alter-ego, he keeps proving his ability to turn into gold everything he touches and continues to push boundaries with each show concept and new release, forever instilling himself as a dance music icon.
About Nico & Vinz
Pop duo Nico & Vinz consists of Nico Sereba and Vincent Dery, musicians from Oslo, Norway. From 2010 through 2012, they went by the name Envy and released "The Magic Soup" & the "Bittersweet Faces," an album that reached VG-lista, the Norwegian albums chart. In 2013, following their name change, they released the uplifting single "Am I Wrong," which reached #1 in several countries all around the world, including the UK, The Netherlands, New Zealand and Canada. The duo followed the multi-platinum hit later that year with the dramatic ballad "In Your Arms."
They then prepared an album called "Black Star Elephant," which saw its release in October 2014. In the busy year that followed, the band played many shows, including the ESSENCE Festival in New Orleans and UNICEF's Snowflake Ball; they were voted Best New Artist at the Soul Train Awards and placed a song in EA's FIFA 15 video game. They also found time to record and release "Cornerstone" EP, and work with the likes of Bebe Rexha & Kid Ink on "That's How You Know" (160M streams on Spotify alone) or Alesso on "I Wanna Know" (140M+ streams across all platforms). In 2017, the duo returned with the single "Intrigued."
Soundrive Music
Soundrive Music has established itself as the premier global source for all things EDM. With a reach in over 125 countries, it has quickly become a trusted and valued source for electronic dance music news, reviews, interviews, and features for DJs, artists, and labels. In addition to its comprehensive coverage of the EDM scene, Soundrive Music also offers a platform for up-and-coming DJs and artists to showcase their talent. Through its various events and collaborations with leading industry players, it provides opportunities for new talent to gain exposure and grow their careers.
Whether it's breaking news, brand new music, or in-depth interviews with the biggest names in the industry, the Soundrive Music is dedicated to delivering the latest and most comprehensive information about the world of electronic dance music. Soundrive Music's headquarters are located in South Africa with offices in Sweden and USA, founded on April 19, 2015 in Helsingborg, Sweden by Jacques Maurice Julie and Darren Johnathan Bezuidenhout.
Nicky Romero vs. Nico & Vinz – 'Forever' is out now via Protocol Recordings
Listen on Spotify
Connect with Nicky Romero
Facebook | Instagram | Twitter | Spotify
Connect with Nico & Vinz
Facebook | Instagram | Twitter | Spotify
Connect with Protocol Recordings
Facebook | Instagram | Twitter | YouTube